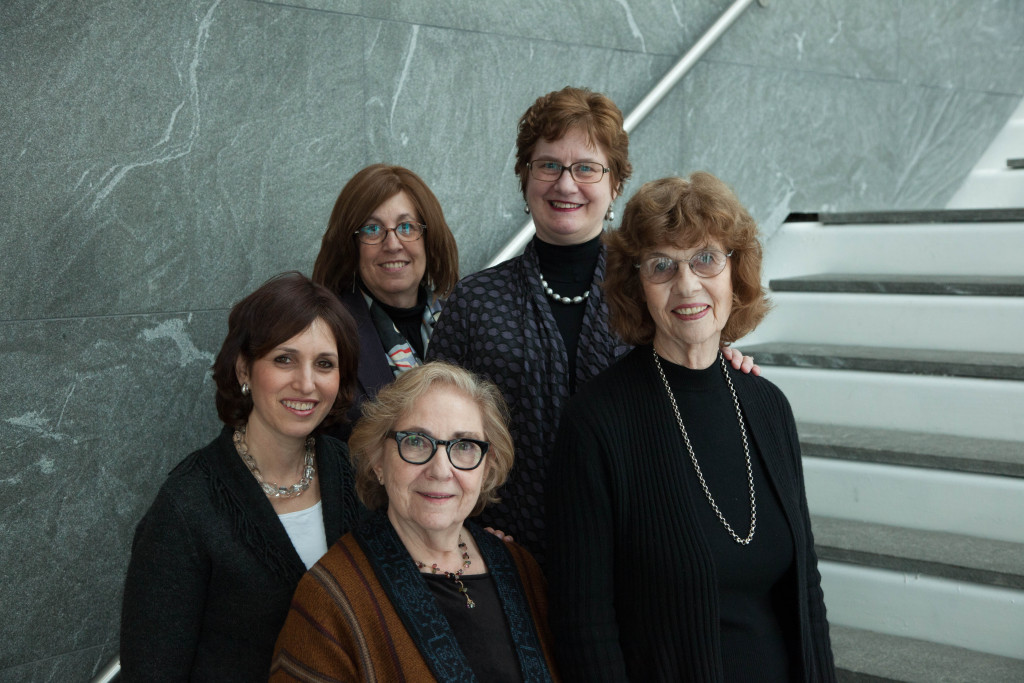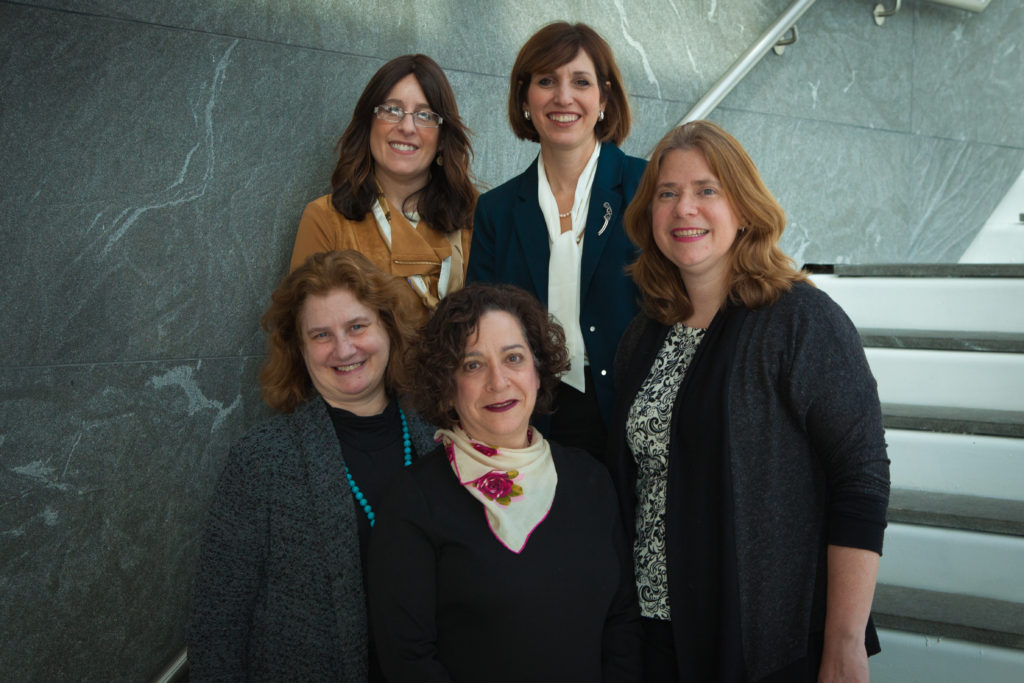 First photo: Clockwise from left- Debbie Niderberg, Dr. Rona Novick, Elizabeth Fox, Esther Kramer, Claire Wurtzel. Second photo: Clockwise from left: Elizabeth Fox, Sara Diament, Debbie Niderberg, Margaret Sarro, Elyn Rosenthal.
Debbie Niderberg, Executive Director, helped launch Hidden Sparks, from conceptual development to its present size and worked collaboratively to design its unique programming, and build the organization's infrastructure and professional leadership. She is also responsible for developing new initiatives, such as Hidden Sparks Without Walls, and new programmatic and funding partnerships. Prior to coming to Hidden Sparks, Ms. Niderberg served as the Executive Director for The Nash Family Foundation, where she was instrumental in bringing the Schools Attuned Professional Development Program to 72 New York area Jewish schools, launching a kosher City Harvest program, an Israel-based medical fellowship, and grants for the first residential Jewish hospice in New York, among other significant grants. Prior to this, she co-founded the Jewish Children's Learning Lab, an interactive Jewish children's museum in New York and managed the Outreach and Special Projects division for the Fund for Jewish Education.
Debbie can be reached at dknider@hiddensparks.org
Elizabeth Fox, Ed.M., Director of Education, joins Hidden Sparks after having served as a professional development advisor for the Center for the Professional Education of Teachers (CPET) at Columbia University Teachers College. She is currently a doctoral student in English Education there. In those dual roles at Columbia, she was able to apply cutting-edge research to the problems of school culture, curriculum, instruction and assessment faced by a wide range of public schools, thereby applying research into practice. Ms. Fox has held numerous positions in which she designed and facilitated workshops on various components of comprehensive school reform, to present at national conferences, to create structures and systems within schools that would improve their culture and efficacy, to develop and implement experiential learning programs for high school students throughout the city, and to start an organizational development program for school leaders.
Elizabeth can be reached at Elizabeth@hiddensparks.org
Rona Milch Novick, Ph.D, Co-Educational Director, is the Dean of the Azrieli Graduate School of Jewish Education and Administration at Yeshiva University and holds the Raine and Stanley Silverstein Chair in Professional Ethics and Values. She served for many years as the Coordinator of Child Psychology in the Division of Child and Adolescent Psychiatry at Schneider Children's Hospital and as the Clinical Director of the Alliance for School Mental Health, providing outreach services, treatment and training to schools, families and communities. She developed the BRAVE bully prevention program and is a trained cognitive behavior therapist with her own private practice. As one of two educational directors for Hidden Sparks, Dr. Novick provides training, supervision and ongoing mentoring to the Hidden Sparks teams of coaches, principals and Internal Coaches. Dr. Novick has been featured in an ELItalk.
Claire Wurtzel, Co-Educational Director, recently retired as the Director of Faculty Development for the Churchill School and Center in New York. Prior to this position, Ms. Wurtzel was the Director of Faculty Development for the New York City Schools Attuned initiative for All Kinds of Minds, an institute co-founded by Dr. Mel Levine and Charles Schwab to help educators work effectively with struggling learners. In her capacity as Director, she oversaw Schools Attuned courses, mentor training and facilitator training for over 400 New York City schools. As one of two educational directors for Hidden Sparks, Ms. Wurtzel provides training, supervision and ongoing mentoring to the Hidden Sparks teams of coaches, principals and Internal Coaches. To fulfill long-standing interest in Jewish education, Ms. Wurtzel has worked to adapt the Schools Attuned professional development program for Jewish day schools. Most recently, she and her husband, Bill Wurtzel, co-authored the book, Funny Food: 365 Fun, Healthy, Silly, Creative Breakfasts, and have been running workshops in New York City schools to improve children's eating habits.
Esther Kramer, ICP Coordinator and Mentor, has been an educator in both the New York City independent schools and the New York City public schools, as well as a faculty member and staff developer of the Special Education Department at Bank Street College of Education. Ms Kramer was the head of the Lower School of the Town School for eight years, and principal and director of the Churchill School and Center in New York. Ms Kramer also served as a facilitator with the Schools Attuned Program from All Kinds of Minds for the New York City public schools. In addition, she co-produced The Open Mind for public television and participated in several research studies.
Sara Diament, Director of School Services, came to Hidden Sparks in 2013 with a background in Health and Behavior Studies and has worked with at-risk youth for Youth Advocate Programs Bergen County. She also ran a psycho-educational program for adolescents at the Somerset Women's Health Center, developed and led anti-bullying workshops for students, teachers and parents on Long Island through the Jewish Women's Foundation, served as a consultant to Jewish day schools on health curriculum development, and worked with the Department of Policy Research and Program Evaluation for the American Foundation for the Blind.
Sara can be reached at sara@hiddensparks.org
Margaret Sarro, Manager of Operations, has worked for Hidden Sparks since its inception in 2005. Margaret manages all day-to-day operations of the organization making sure that everything from scheduling to billing runs smoothly and efficiently. Prior to working for Hidden Sparks, she was the Grants Manager at The Nash Family Foundation where she worked to determine funding needs and allocations and, coordinated grant inquiries and applications and monitored financial reporting.
Margaret can be reached at Margaret@hiddensparks.org
Elyn Rosenthal joined our operations team in 2013. She has broad experience in event coordinating, fundraising, marketing and communications both in the non-profit and public sector. Elyn is very involved in social action causes and is an activist in organization such as the John Huess House Project and the Dream Street Foundation for whom she volunteers as a counselor every summer in their camp for children with life-threatening illnesses.
Elyn can be reached at Elyn@hiddensparks.org
Tamar Bauman, a School-Clinical Psychologist, is a senior coach and mentor for Hidden Sparks and has been with the organization since its inception. She has 20 years of experience helping children with mental health, behavioral, and academic challenges. Dr. Bauman has provided ongoing education and coaching to Jewish Day School teachers as well as mentoring and supervision to coaches in training. Prior to her involvement with Hidden Sparks, Dr. Bauman worked for the School Mental Health Program at Long Island Jewish Medical Center. There she treated children with a range of emotional and behavioral struggles through individual, group, and family therapy. Dr. Bauman has also organized social skills and bully-prevention programming for schools and has provided learning, social skills, and anti-bullying workshops for students, teachers, and parents.
Hollis Dannaham, M.Ed., has been empowering complex learners for 30 years as a learning specialist, special educator, administrator, and consultant in public, private, and charter schools. Hollis created Transform Boundaries, an organization dedicated to helping schools create programs and creative solutions for reaching their complex learners. She served as the Director of Academic Intervention at Explore Charter School and co-created the Carmel Alternative High School for at-risk teens. Hollis also worked as a learning specialist at the Student Success Center of All Kinds of Minds. Currently Hollis is a coach, mentor, and workshop facilitator for Hidden Sparks.
Adam Gottlieb, PsyD, joined the Hidden Sparks coaching team in 2014 with a strong background as a school-psychologist in special needs public schools, as well as at The Abraham Joshua Heschel School in New York City. Adam has worked directly with children of all ages who experience emotional, behavioral, and learning challenges within school settings. Adam specializes in Collaborative Problem Solving, behavioral change strategies, social-emotional learning, and has developed and implemented several school-wide programs in these areas. Prior to his work as a psychologist, Adam spent eight years as a classroom teacher in New York and Israel. Adam earned a master's degree in school psychology from Brooklyn College and a doctorate from Rutgers University.
Sara Reichman, a clinical psychologist, serves as a Hidden Sparks coach. She holds a doctorate from the Ferkauf Graduate School of Psychology of Yeshiva University. She served as Senior Psychologist at New York University Medical Center, where she gained extensive experience working with children and families and was part of a multidisciplinary team that performed neurodevelopmental evaluations. Dr. Reichman then worked as a Senior Psychologist at a pediatric multi-specialty practice treating children, adolescents and families. She is a psychologist in private practice.
Andrea Rousso taught in NYC public schools for 33 years before joining the Hidden Sparks team as a coach and facilitator. She initially taught emotionally fragile children with special needs at IHB Day Treatment Center in collaboration with clinicians from the Jewish Board of Children and Family Services. Later, as a teacher-trainer for special education, she consulted with teachers in inclusive classrooms, and led workshops to help teachers understand emotional reactions to learning in the classroom. In 2004, Andrea received a Bank Street Early Childhood Education award for her innovative and motivating curriculum and teaching style. Andrea became a certified facilitator for the Schools Attuned Program of All Kinds of Minds in 2001. Currently, as a part-time consultant in three NYC public schools, Andrea meets with teachers to assist them with curriculum adaptations and understanding classroom behaviors.
Esther Fradel Schwartz is a senior Hidden Sparks coach and mentor. She holds a Bachelor's Degree in interdisciplinary studies from Touro College and a Masters of Science in Education from the College of Staten Island CUNY. Before becoming a coach in 2010, Mrs. Schwartz gained twelve years of teaching experience in early childhood and special education classrooms and was an adjunct professor of education at Daemen College. She also coordinated the Mishan Letalmid and Shutfim: Parent Partners programs for Toshia, providing assistance to parents and teachers of children with learning and behavioral challenges. Mrs. Schwartz is the author of a popular social skills curriculum "My Place, My Space" published by Focus in Education.
Barbara Stern has devoted her career to meeting the needs of struggling students and joined Hidden Sparks as a coach in 2017. She has held positions as a staff developer for the NYC Department of Education where she guided teachers to use assessments to identify children struggling with reading and writing, spent eight years as a faculty member at Bank Street College where she taught courses and acted as a student advisor, and most recently, was the Director of Student Support at Beit Rabban Day School where she led all Child Study Team meetings, worked on staff development and coordinated individual instruction plans for students. Holding Master's degrees in both Education and Social Work, Ms. Stern has also maintained a private psychotherapy practice for the last 30 years.